You don't know how to make a reservation?
Select accommodation Mount Pleasant
Other cities and destinations Bermuda
Holiday homes Mount Pleasant, Bermuda
hide details
show details
Easy online booking of hotels, bed-and-breakfests, apartments in Mount Pleasant without booking fees.
You can use our online booking system to easily book not only accommodation Mount Pleasant, but also accommodation around the world.
When choosing accommodation in Mount Pleasant please be aware of the deposit and cancellation policies. The terms may differ across different hotels Mount Pleasant, or even across different rooms in a given hotel.
You can select the type of accommodation: Apartments Mount Pleasant , Bed and breakfasts Mount Pleasant , Holiday homes Mount Pleasant , Resorts Mount Pleasant
When you enter the dates of your stay Mount Pleasant, only available rooms, or units will be shown. You will be able to tell the type of accommodation in Mount Pleasant from the room or facility description. You can book a hotel room Mount Pleasant, an apartment Mount Pleasant, a house, an entire villa, and, in some destinations, even a bed in a tent, for example. :-)
Restricting criteria: Holiday homes
3 hotels around Mount Pleasant - distance 5 km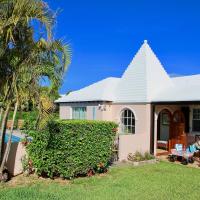 35 White Sands Road, Mount Pleasant, Bermuda
To the centre of the city Mount Pleasant: ~1.4 km | Show the hotel on the map
Boasting an outdoor pool and garden views, Beach Walk Cottage is situated in Mount Pleasant. The air-conditioned accommodation is 2.3 km from Marley Beach, and guests benefit from complimentary WiFi and private parking available on site. The holiday home features 2 ...
To see prices and availability of rooms, please enter your arrival and departure dates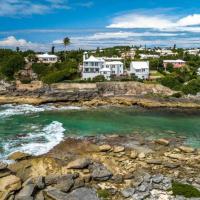 9 Seabright Lane, Camden, Bermuda
To the centre of the city Mount Pleasant: ~2.8 km | Show the hotel on the map
Featuring accommodation with a balcony, Saltine is located in Camden. This property offers access to a patio, free private parking and free WiFi. This air-conditioned holiday home comes with 1 bedroom, a cable flat-screen TV, a dining area, and a kitchen with a ...
4 Fairmont Drive, Southampton, Bermuda
To the centre of the city Mount Pleasant: ~4.7 km | Show the hotel on the map
Situated in Southampton, just 2.8 km from Marley Beach, Southern Views features beachfront accommodation with an outdoor swimming pool, a bar, a garden and free WiFi. Boasting free private parking, the holiday home is in an area where guests can engage in activities ...